PREMIER HARDSCAPING SERVICES IN NJ, DE, MD & PA
Testimonials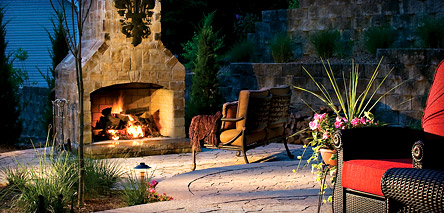 Thanks again for everything! We love our new patio!
-Best Wishes, Tom
You were a pleasure to do business with… our door and back yard is always open
-Robert and Marla Ruh
Sewell, NJ
I feel your work is second to none. My statement to many is "you get what you pay for and I would use you again in a heartbeat." Barb and I really enjoy the backyard and it couldn't have been possible without you and your workers. The integration of the pavers and the steps to the basement door always generates positive comments from people walking out back for the first time. The sitting wall along the pool was a great idea and has towels draped over it all summer. Thanks for everything.
-Your Friends, Jay and Barb Hill West Deptford, NJ
"I wanted to thank Nick and his crew for a job well done. I got a design, an estimate and a schedule when the work would be started and completed, everything was exactly as promised. The crew cleaned up and it looked like they were never here. I would recommend Think Pavers to anyone looking for a courteous, meticulous, professional organization to handle their projects. Thanks again."
-- Michael Waton Mullica Hill, NJ
"If you are thinking about hardscaping, think Think Pavers! From initial design through site clean-up, Nick Furfari and his team made our project completely painless and stress free! We chose Think Pavers because of their reputation for perfection and professionalism. Our bluestone patio is wonderful. The red brick driveway extension and walkway is a work of art and our dry stack flowerbed has increased our "curb appeal" ten-fold! Equally important to us was the quality of the installation. I have no doubt that it will be beautiful for many years to come. During installation, we noted two items we felt were "slightly-less-than-perfect". When these issues were brought to Nick's attention, they were taken care of promptly, professionally and with no push back! I can't give enough praise for Think Pavers, but I can highly recommend them for any hardscaping project you have! I only wish my other home improvement projects went as smoothly."
-- Kathy and Bill Arseneau
"We were looking for a hardscaping contractor for a large complex patio project (775 square feet). Think Pavers came out and provided consultation based on our design ideas along with an estimate and timeline for completion. The project start date was met and the patio was completed on time and on budget. The staff was professional and worked diligently. What I liked is the way our project was worked on daily until completion. It was not one of those contractors who you see one day and don't come back for another week. I know of several people who had projects with the other contractors which took months to get done if they were ever done at all. The patio turned out wonderful. Two years later the patio is in great shape with no issues. I get compliments on the project whenever somebody comes over our house. It definitely stands out when compared to patios done by other contractors. The experience/knowledge of the contractor does make a difference in the final product. I would highly recommend Think Pavers for any hardscaping project."
-- Satisfied Customer in Mullica Hill, NJ
"Anyone who wants to see a professional job that was done on time and in budget 3 years ago and still looks great – stop by my house!"
-- Jack Campbell
"Think Pavers has performed work for Art Anderson Inc. at the Woodbury High School stadium & track replacement project recently. They installed 6,000 square feet of Mesa Wall Unit at that site. They performed their work in a very professional manner and the completed project was of fine quality. We would recommend them for future projects."
-- Beverly J. Anderson, Secretary-Treasurer
Art Anderson Inc. – Commercial Project
"In August of 2007, Think Pavers commenced the installation of an approximate 43,000 square foot EP Henry segmental retaining wall for our project located in Mount Laurel, NJ. All work performed by Think Pavers was done on schedule and in an extremely professional and workmanlike manner. There were several areas of the segmental retaining wall that required extreme precision to accommodate for the detention basins and culverts. Think Pavers craftsmanship is impeccable along with their level of professionalism. In addition, their ability to work well with other trades would be an asset to any company."
-- Thomas C. Fisher, Project Manager
Old Bridge Construction – Commercial Project