PREMIER HARDSCAPING SERVICES IN NJ, DE, MD & PA
HARDSCAPE SERVICES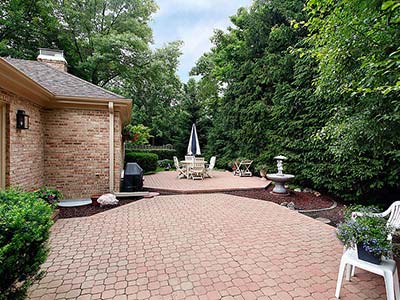 Think Pavers is a hardscaping industry pioneer, offering high-quality solutions to commercial and residential clients. Our one-of-a-kind, personalized approach to each project adds something distinctive to your property. As a reputable, well-established operator in the business, we work hard to guarantee that all your demands are satisfied, resulting in remarkable outcomes. Using our services gives you the right blend of dependability, cost-effectiveness, and excellence. Our highly experienced professionals can assist you in creating a new outdoor for your home or adding components to an existing landscape. They will handle everything from material selection to retaining wall building and paver installation to enhance the attractiveness of your outdoor space. This rigorous and precise approach guarantees that you will obtain an easy-to-maintain, practical, and easy-to-maintain exterior element for your residential or business property. Our services include hardscape design, planning, and installing all paver pieces. We provide residential and business customers with the latest landscaping services:
HARDSCAPING
Our company is dedicated to giving a positive experience to our customers around the area. While creating landscaping designs, our team of specialists will also consider the structural design of the building on your site. We employ concreting professionals, stonemasons, paver installers, and retaining wall builders that will go above and beyond to guarantee that you have a beautiful and long-lasting feature on your site. Our crew is highly competent and knowledgeable about the latest hardscaping trends. When we create a feature for your home, we ensure that all materials are simple to maintain, which assists in lowering the total ownership expense over the long term. We also employ high-quality materials to create a well-finished and long-lasting feature. We are among the industry's select businesses maintaining excellent quality standards at reasonable pricing. We concentrate on providing customers with bespoke solutions suited to their individual needs. Read More About Hardscaping >>
PAVER PATIOS
Choose appropriate materials and blend them with the remainder of your hardscaping to guarantee that your outdoor seating area lasts for many seasons while also being simple to maintain. Patio pavers are a fantastic material, and we strive to give only the best structures to our consumers. We provide high-quality paver patio design and building services. Our staff is here to provide you with all the details you require to make an educated choice from the various paver products on the market. Paving stones come in a variety of shapes and hues. Our professionals will assist you in creating a stunning patio and paths that lead to your yard or garden. We provide personalized patio paver solutions at reasonable pricing, allowing you to enjoy gorgeous outdoor settings while saving money. Our crew is dedicated to assisting you with any patio needs, whether commercial or residential. We handle projects of all shapes and sizes and tailor solutions to our client's requirements. Read More About Paver Patios >>
PAVER DRIVEWAYS
Paver driveways are used in many residential and business projects. Concrete and asphalt driveways are being phased out in favor of pavers, which have several advantages. A paver driveway may endure for decades with appropriate maintenance, delivering exceptional value. Installation and upkeep are straightforward, and these products look gorgeous in any situation. You can select from brick, concrete, or stone pavers, and our specialists will recommend the best designs and patterns for you. In addition, we can assist you in replacing your old concrete approach with a better and aesthetically appealing paver installation. We ensure that all paver elements are properly installed, and that the addition is solid and lasting, which is critical in high-traffic locations. Our crew is ready to give you all the information you need about the different products and materials, allowing you to make the best selections possible. We work with you every step to ensure you are 100% satisfied with the outcome. Read More About Paver Driveways >>
PAVER POOL DECKS
We create high-quality pool decking for both households and businesses. Our staff will meet with you to discuss your needs and provide suitable paver pool decks, and we can offer you all the information you want about the various pool decking alternatives. Our paver contractors are highly skilled, well-trained, and experienced. They verify that the construction is carried out per industry norms and the agreed design. You can count on us to offer you high-quality services. Our creative and experienced team, so your paver deck will be gorgeous, long-lasting, and resilient. Whatever pool deck type you like, our services are affordable and provide a fantastic return on investment. Our services include hardscape design, planning, and installing pavers on pool decks. We also design and assist with installing additional hardscaping components on the deck and offer comprehensive hardscaping services. Read More About Paver Pool Decks >>
PAVER WALKWAYS
Paver walkways are an excellent method to improve the appearance of your landscaping and make your open spaces more welcoming and distinctive. Adding custom-designed paths to your landscaping increases your property's curb appeal while improving the general landscape flow. We'll work with you to create an attractive and robust walkway, regardless of the style you want. Installing paver walkways in your yard has several benefits. We provide you with all the information you want to choose the finest pavers for your requirements. We specialize in natural stone and brick paver installation, and our team can also use combination materials to create unique designs and patterns in your yard. We always use the finest materials to guarantee that your walkways last a long time and appear great. Pavers are available in various shapes, sizes, patterns, and colors. You can anticipate a lovely pathway leading to your main entrance with our assistance. Read More About Paver Walkways >>
OUTDOOR FIREPLACES
Outdoor fireplaces are an excellent way to enhance the ambiance of your yard. With a fire element in your landscape, you can enjoy these outside places even during the colder months. The fireplace must be skillfully planned and built using high-quality materials to guarantee its endurance. You may be certain that we will create a stunning fire feature that will serve as your home landscaping focal point. Bluestone, travertine, granite, sandstone, and slate are just a few natural stones available in an outdoor fireplace. We can also combine natural stone, brick, and concrete to create a one-of-a-kind feature to suit the architectural components of your yard and house. Our professionals strive to construct a fire feature that is durable enough to endure for years while also providing you and the family with the ideal background to enjoy your backyard area more. We offer the best fireplace designs and plans to complement your yard. Read More About Outdoor Fireplaces >>
OUTDOOR FIRE PITS
A fire pit is a standard backyard accessory. If your yard contains a fire feature, you can use these outside places all year. A well-thought-out structure and the use of superior materials during construction contribute to a sturdy and long-lasting fire pit. Our customized fire features will undoubtedly create an eye-catching highlight for your garden space. If you prefer a natural stone fire pit, you can use bluestone, granite/sandstone, or slate as the material. If you want a unique design that complements the style of your house and yard, we may use concrete coated with stone veneer. Our objective is to give you and your visitors long-lasting conveniences while providing a gorgeous background for you to enjoy your backyard fully. The crew will put the fire pit and seating areas correctly. We provide our clients with outstanding value and one-of-a-kind hardscaping solutions. Read More About Outdoor Fire Pits >>
OUTDOOR KITCHENS
An outdoor kitchen can increase your living area while giving your property a clean, uncluttered appearance. You can also spend time with your loved ones, and it's a terrific way to make the most of your property's accessible outside areas. A well-designed garden and an outdoor kitchen make our house the perfect place to entertain guests. We're a local landscaping business with a group of imaginative thinkers that can come up with excellent outdoor kitchen concepts. The architectural components of your house will be considered while designing them. We realize the need to build functional outdoor kitchens in addition to aesthetically stunning ones. We use a mix of our creativity, product knowledge, and cutting-edge installation technologies to create gorgeous outdoor areas that dramatically raise the value of your property. Furthermore, we ensure that we will complete your open kitchen installation on schedule so you can enjoy your new room as soon as possible. Read More About Outdoor Kitchens >>
RETAINING WALLS
Building usable outdoor areas on sloping land without a retaining wall is challenging or impossible. However, you can overcome this hurdle by constructing specially engineered walls. Retaining walls can hold soil and earth while building a garden bed, a yard, a deck, a patio, a parking space, a driveway, or an outdoor kitchen. We use stones, brick, boulders, blocks, or even wood in these structures, and we offer appropriate materials after examining the site and comprehending the functionality you want. We employ high-quality retaining wall supplies to create a system that looks wonderful while giving the support your landscape needs to be safe to use. We can also construct combination material walls based on your requirements and budget. Our competent and experienced team will design robust and long-lasting concrete block retaining walls if you need these elements for an existing landscape prone to erosion. Read More About Retaining Walls >>
We provide our customers with landscaping services that are affordable, dependable, and practical. Our company creates all the components of your landscape. It's a beautiful approach to ensure they fulfill your property's demands while being visually pleasing. Managing your landscape is more straightforward, efficient, and affordable because we provide a wide range of hardscaping options under one roof. Our experts are proactive in giving solutions, guaranteeing that they fit your projects and budgetary needs. We have vast experience in commercial and residential landscaping. Our team is proud of its ability to adapt, be creative, and be proficient in its technical expertise in all these areas. Please contact us if you have questions or concerns regarding how we can assist you. If you are looking for exceptionally high-grade hardscaping services, please call Think Pavers at (856) 832-468. You can write to us via this Contact Us form, and we will revert shortly.